Thai Translation Company is a professional services company that brings extensive experience in the execution of large scale Asian languages translation/interpreting projects and a standardized system to manage these contracts successfully. Currently, Thai Translation is an excellent provider of translation, interpreting, transcription, voice-over, subtitling and dubbing services for Asian languages along with staffing solutions and global business support, with hundreds of personnel as well as 10.000 qualified freelancers in many countries across Asia, US, Europe, Middle East and Africa.

Applying ISO 9001 -2008 and being a member of ATA, ELIA and AATI, Thai Translation exists solely to help Asian corporates as well as organizations expand their market and promote business relationship globally with high quality translation and interpretation services whilst keeps supporting multinational enterprises investing in Asia. Our team consists of experienced experts and business professionals in the fields of language translation, interpretation, localization, recruitment, security, intelligence, business processes and systems, information management technology and outreach to diverse ethnic communities.
With deep experience in interpretation and translation services, Thai Translation understands the critical role that highly qualified linguists perform in support of its clients around the world.
At Thai Translation we know that hiring and retaining the highest quality employees is the key to our success as a business. We adopt the goals of our customers as our own, and we encourage our employees to become integral components in our organization. With that in mind, we strive to provide the best possible working environment, competitive compensation plans and generous benefits packages to our employees.
By any standard – facilities, revenues, or staff size – Thai Translation's growth since its conception in early 2005 has been remarkable. The company has expanded from a small business with a handful of employees to an Asian language strategic partner winning major contracts around the world.

These services are more than just finding Thai translators or a Thai Translation Company, and getting the Thai language translations of your sales literature completed. They also include:
Thai Internationalization of software and websites, which ensures that your site or application function for the Thai market, correctly handling currency, time and dates, or special Thai characters.
Thai Localization of software and websites, which ensures that your site or application are correctly translated and accurately communicate your message.
Thai translation and desktop publishing of documentation, which ensures that your user manuals, contracts and collateral materials are accurately rendered in Thai.
Thai software testing to verify that your application works properly for your target users. Proper platforms, browsers, and test scripts are used to ensure the experience of the Thai users will be as good as if the application was developed specifically for the Thai market.
Thai website testing to verify that your site works properly for your target users. Proper platforms, browsers, and test scripts are used to ensure the experience of the Thai users will be as good as if the site was developed specifically for the Thai market.
Whether your English to Thai translation needs are to localize Thai eLearning content or Learning Management Systems (LMS) or if they are for Thai Medical translations, the Return on Investment (ROI) for localizing your materials can be significant.
Translation Process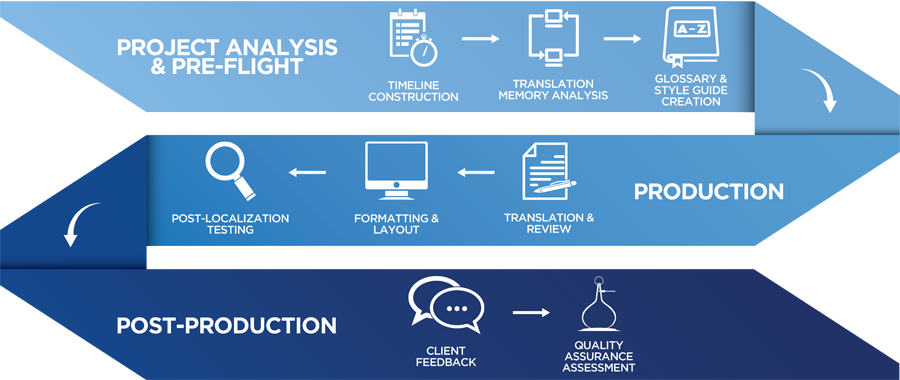 Certified Quality Assurance
Throughout the company's history, TransPerfect has shown an unmatched commitment to quality. As the first major language services provider to be certified to the ISO 9001 and ISO 17100 standards, TransPerfect is the undisputed industry pioneer in quality assurance. Our Medical Device Solutions division holds specialty certifications to ISO 13485 and ISO 14971.
Thailand Translation Linguist Certification Program
While various professional groups and organizations have historically provided credentials for professional linguists, none of these addressed critical elements of linguist performance like subject-matter expertise and overall competency — so Thailand Translation introduced the Thailand Translation Linguist Certification (TLC) program. The TLC program was the first comprehensive system to assess linguist skill in the areas that matter most to clients.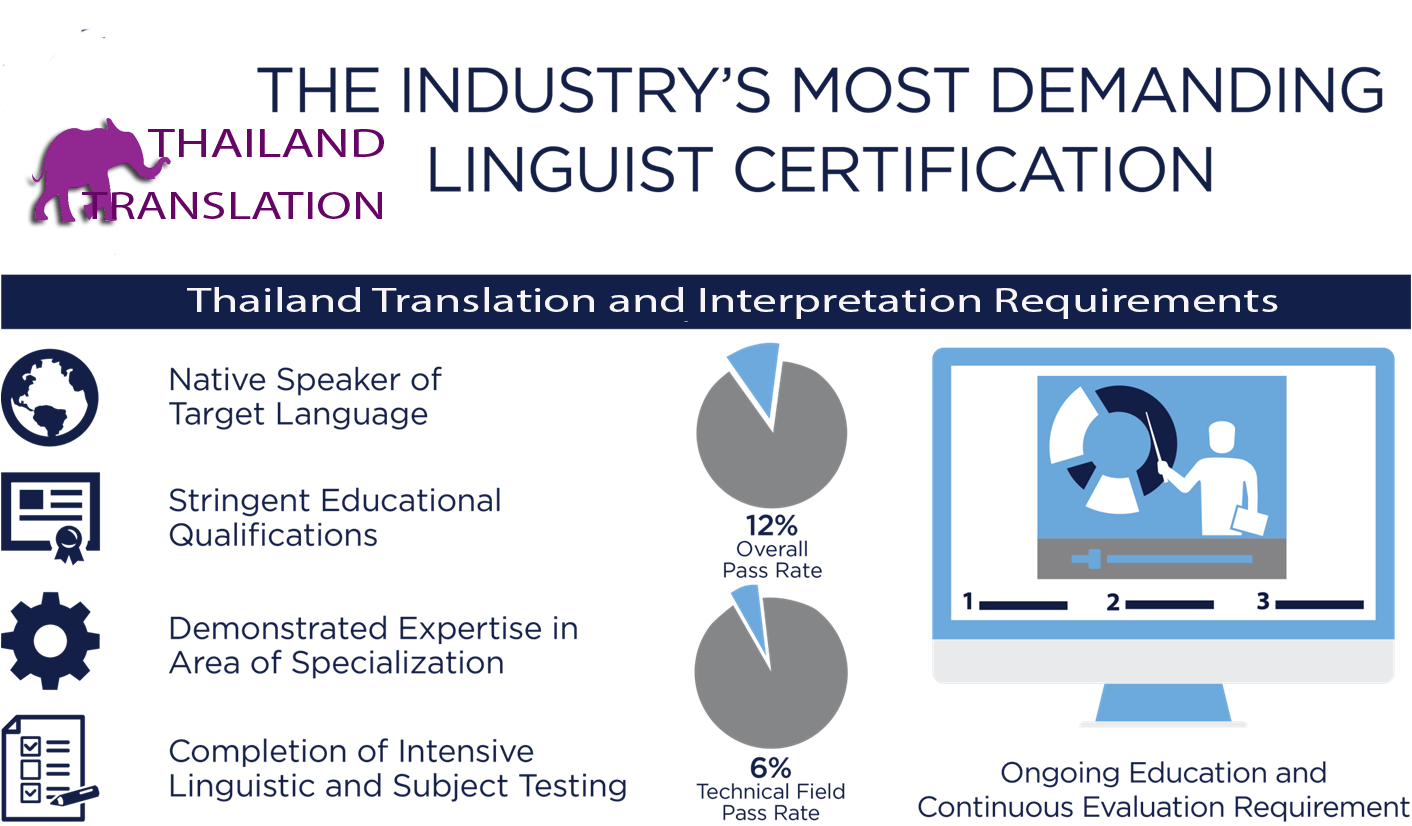 Document Translation
While Thailand Translation today is a diversified business solutions organization, our birth in 1992 was as a pure-play document translation service. Ever since, we've been the industry pioneer driving the level of quality and service increasingly higher. Thailand Translation was the first major language services organization certified to both ISO 9001 and ISO 17100 as well as the first to offer a subject-specific certification program to assess both linguistic competency and industry knowledge.
No other language services provider can offer the capabilities that Thailand Translation does to meet your multilingual challenges:
Rush Turnaround Times
High-Volume Requests
Highly Technical Materials
Certified Documents
Machine Translation
For companies that face extremely high volumes of text, extremely fast turnaround requirements, or both, machine translation can potentially serve as a viable option. On its own, current machine translation technology can't produce the same level of quality as a human translator. However, depending on time constraints, cost requirements, and end-use, the machine translation process can be customized with the ideal combination of terminology glossaries, translation memory technology, optical character recognition (OCR), and post-translation proofreading by human linguists.
Please contact us to learn more about our machine translation and to talk with our client service team to determine if machine translation is a potential solution for your needs.
CAT Tools
Thailand Translation utilizes leading computer-assisted translation (CAT) tools to facilitate reuse of previously translated content stored in translation memory (TM). TM helps organizations cut costs and timelines while improving overall translation consistency, and the benefits in these areas grow over time as TM assets grow and are augmented by tools including GlobalLink TM Server and GlobalLink Term Manager, which centralize TM assets and manage terminology glossaries, respectively.
Translation Management Technology
Thailand Translation's GlobalLink translation management technology is a suite of modular applications designed specifically to alleviate manual project management burdens associated with the translation process. By streamlining workflows, giving stakeholders direct access to project status reports, managing review processes, and maintaining audit trails, GlobalLink simplifies the entire translation process, from submission to release. The end result is improved translation quality, expedited timelines, decreased workloads, and significant cost savings, which could potentially total in the millions of dollars.
Our Translation Services Includes:
Machine Automation Manual
Manufacturing Intelligence Design
Control Panel Design & Fabrication
Biopharmaceutical Marketing Sheets
Recombinant Therapeutic Product
Health, Safety & Environmental Data Sheets
Chemical Safety Data Sheets
BioPharma eLearning Training Content
IT Training Manual
HydroTherapy Spa Data Sheets
Corporate Training Materials for Hotel Chain
Movie Titles/Descriptions
Software Apps
User Manuals
Newsletters
Legal Contracts
RFPs Translations
ISO Forms
Video Games
Customer Satisfaction Surveys
Theme Park Maps
Medical Document Translations
Pharmaceutical Software Training
Medical Device Press Releases